I just updated my laptop to the latest version of windows 10 (build number 1803) and tadaa– I got the notification that the Homegroup setting has been discontinued!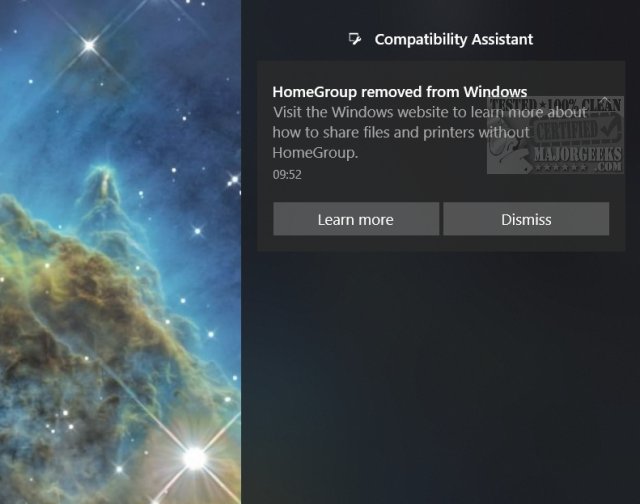 Before now, I used to transfer my files between laptops through homegroups, when I did not have an external drive but i had plenty of time.   But what really happened?
After you update your PC to Windows 10 (Version 1803):
HomeGroup won't appear in File Explorer.
HomeGroup won't appear in Control Panel, which means that you can't create, join, or leave a homegroup.
HomeGroup won't appear on the Troubleshoot screen when you go to Settings  > Update & Security  > Troubleshoot .
You won't be able to share new files and printers using HomeGroup.
Also read; How to unbrick a bricked phone
WHY HOMEGROUP WAS REMOVED
Since HomeGroup was created in the pre cloud and pre mobile era the company now says that it has served its purpose and there are more alternatives do quickly share files etc. With Windows 10 Microsoft has made it easy to connect PCs and printers on home network via the Share functionality of Windows 10 or using OneDrive app and share photos and albums with multiple devices.
With the HomeGroup now being retired Microsoft is advising users to turn to OneDrive for file storage, Share functions and more. You can access more than a single device by logging in with your Microsoft Account.
The company has also revealed an important info about the HomeGroup especially for users with Windows 10 Creators Update, that the service will continue to work for Creators Update Windows 10 users, until they update to the company's newer version of Windows 10, meaning users with Fall Creators Update and upcoming Redstone 4 will not be able to use the HomeGroup service.
Download Videoscribe unlocked software here
ALTERNATIVES AVAILABLE
And so begins the end of HomeGroups, which was an attempt to simplify file sharing that turned out to be surprisingly complicated. Your current file and printer shares should keep working, but you won't find any reference to HomeGroups in Windows after installing the latest update.
Select a file, go to the 

Share

 tab, and then select 

Share

. Choose the app you want from the list.
If you have OneDrive files saved on your PC, here's how to share them from File Explorer:
Get a link you can share with anyone. Right-click (or press and hold) a OneDrive file or folder, select Share a OneDrive link, and then post the link wherever you like. Anyone who sees the link will be able to open the file, but they won't be able to edit it.

Email a link to just a few people. Right-click (or press and hold) the file, select More OneDrive sharing options > Invite people, and then enter their email addresses. If you'd rather not let the recipients edit the file, select Recipients can edit, select Recipients can only view from the list, and then select Share.
If you have a desktop mail app installed, select Share > Email to open that app and attach the selected file to a new message.
To share files with people in your workgroup or domain, select the file or folder you want to share, go to the Share tab, and then in the Share with section select Specific people.
I guess we should be expecting new windows updates soon as replacements to the options that get removed over time.
What do you think? Share your thoughts by commenting below