Google's Android 6.0 Marshmallow
release may have been announced last October—but if you're like the
majority of Android users, it's probably pretty new to you right about
now. You might even still be waiting to receive it!
Whether you're a Marshmallow newbie or an Android 6.0 veteran,
though, there's plenty to be learned about Google's latest major mobile
effort. Check out these tips and see what new tricks you can teach your
favorite Android phone or tablet.
Many device manufacturers modify the
operating system to put their own spin on the features and interface,
which could result in some elements looking different or even being
absent altogether on certain devices.
1. Take full advantage of Now on Tap
One of Marshmallow's most promising features is something called Now on Tap—an
expanded version of Google's virtual assistant that provides contextual
info tied to whatever's on your screen at any given moment. To use it,
just tap and hold your device's Home key and see what comes up.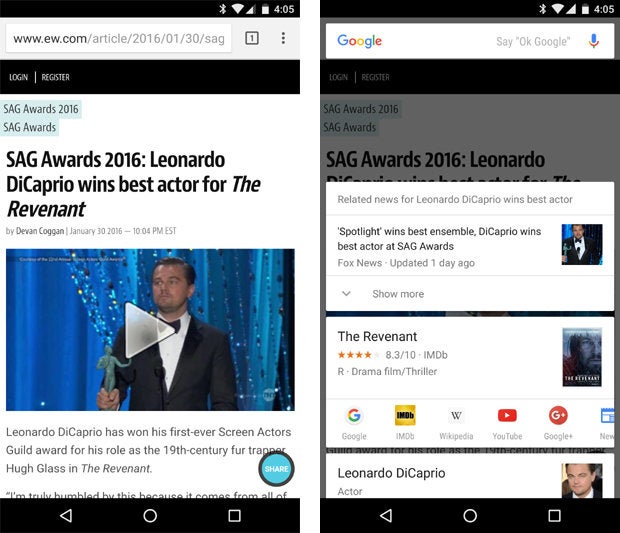 Now on Tap provides contextual info related to whatever's on your screen.
Now on Tap can do some genuinely useful things, and its powers have
continued to expand since Marshmallow's initial release. If you activate
it while an airline flight number is on your screen, for instance—say,
in a text message—Now on Tap will show you that flight's status without
forcing you to switch apps or interrupt what you're doing. If you
activate it while looking at the tracking number for an online purchase,
meanwhile, the system will give you the current status of your package
delivery.
You can also use Now on Tap to get directions to a business or street
address, info and reviews about a restaurant, or reviews and show times
for a movie. As long as the subject is mentioned on your screen,
tapping and holding the Home button should do the trick.
2. Or turn off Tap altogether
For all of Now on Tap's potential, the truth is that the feature is
still useful only in a small and relatively limited number of scenarios.
For some people, it just isn't versatile enough to justify its
system-wide placement on the Home key—particularly since in previous
versions of Android, that same spot was reserved for a universal
shortcut to the full Google Now interface.
The good news, though, is that Now on Tap is super-easy to disable.
Well, I've got good news: If you aren't using Now on Tap much and would
rather have the Google Now shortcut back in its place, all it takes is a
few quick taps to make it happen.

Here's all you've gotta do:

On your Marshmallow phone or tablet, open the system settings.
Select Google (under the section labeled "Personal"), then Search &
Now, and then Now Cards.
See the option called "Now on Tap"? Uncheck the toggle next to it. (It'll appear gray instead of blue once it's unchecked.)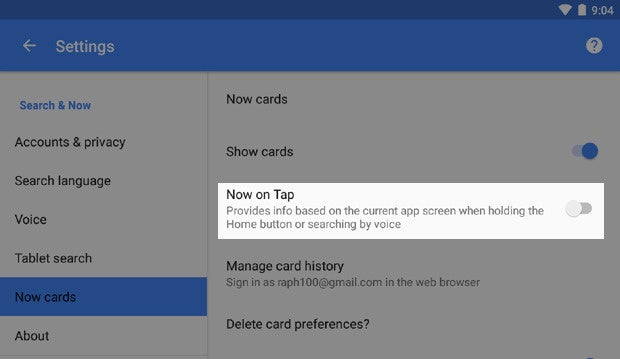 And that's it: Once you've finished those two steps, tap and hold your
Home button from anywhere in the system — be it on your home screen or
within any app or process — and you'll be taken right to Google Now,
just like you were in the Lollipop era. And yes, this'll work regardless
of whether you're using the Google Now Launcher or a third-party
alternative.

The only difference from the past is that with Marshmallow, you always tap and
hold the Home button instead of swiping up on it — and that little
animation with the Google logo (pictured at the top of this story)
doesn't appear like it used to — but the end result is identical. And
that's ultimately what matters.

If you ever decide you want to give Now on Tap another go, all you have to do is follow the same steps described above, only check the toggle next to Now on Tap instead of unchecking it. Easy enough, right?
And once you turn it off, tapping and holding your Home key will once
again take you to Google Now from anywhere in the system.
If you want to tap out of Now on Tap, go to the Google section of
your system settings. Select "Search & Now," then "Now on Tap"—then
uncheck the toggle on the screen that appears. If you decide you want to
give Now on Tap another whirl at some point in the future, just repeat
these steps and switch the toggle on.
3. Customize your Quick Settings panel
Wish you could change what shortcuts appear in your device's Quick
Settings panel—you know, the pull-down menu filled with links for things
like toggling your Wi-Fi or Bluetooth and enabling airplane mode? With
Android 6.0, you can.
The power is hidden in a new advanced feature called System UI Tuner.
To activate it, first swipe down twice from the top of your screen (or
swipe down once with two fingers) to open the Quick Settings panel.
Touch and hold the little gear icon in the upper-right corner until it
starts spinning, then let go—and you should see a message confirming
that System UI Tuner is enabled and waiting for your command.
Now just head into your main system settings and scroll all the way
down to the bottom of the list. Tap the newly present line labeled
"System UI Tuner," throw on the nearest Indiana Jones costume and start
exploring.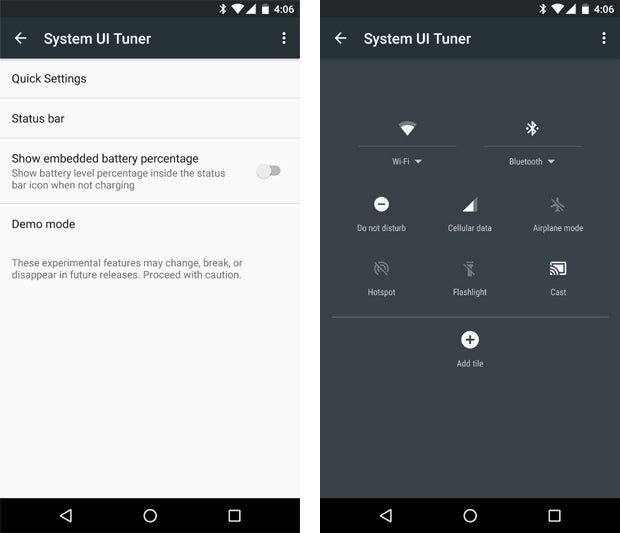 The System UI Tuner allows you to customize Android's Quick Settings panel, among other things.
4. Take your tuning up a notch
If you're feeling especially ambitious, check out a third-party app called Custom Quick Settings.
It goes even further than Marshmallow's native Tuner tool and lets you
add all sorts of custom shortcuts into the Quick Settings panel.
Just be warned: The app isn't exactly user-friendly. Proceed only if
you have the patience and know-how for next-level tinkering.
5. Crank up the volume (without cringing)
Remember how annoying it was to adjust volume levels in Android 5.0?
Well, thank your lucky stars: That's all fixed in Marshmallow. You can
now access all of the system volume controls—for your ringer and notifications, music, and alarms—anytime, regardless of what you're doing.
When you first press your device's volume-up or volume-down key,
Marshmallow will pull up the control most relevant to your current
activity—for instance, if you're playing music it'll bring up the music
volume slider. If you want to adjust the volume for a different
function, just tap the little down-facing caret at the right side of the
volume slider. That'll expand the volume controls so you can see all
the different sliders and adjust whatever you need.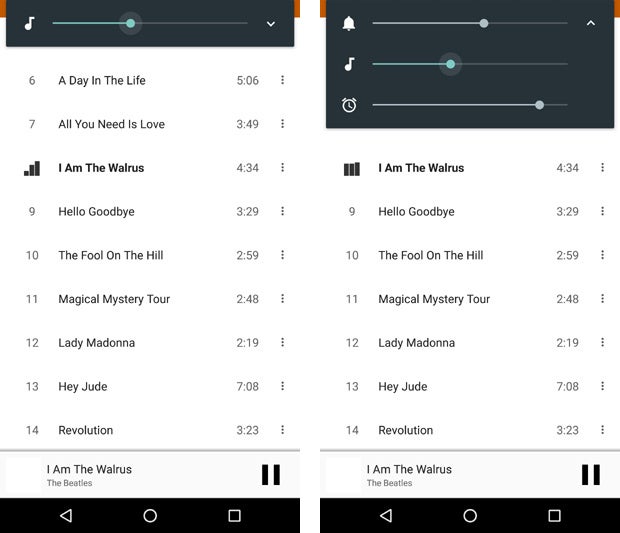 The caret in the Android 6.0 volume panel lets you access all the system volume sliders.
6. Get some peace and quiet
As part of Android's volume system revamp, Marshmallow introduces a much more user-friendly Do Not Disturb mode.
When you want to be left alone for a while, just tap the "Do Not
Disturb" tile in the Quick Settings panel. You'll be able to turn off
all sounds and vibrations either indefinitely or for a set amount of
time—or opt to turn off everything except alarms or everything except
high-priority notifications (more on those in a minute).
7. Silence the simple way
If you don't want to think about options and just need to hush your
phone in a hurry, hold your device's volume-down key until it shows a
vibrate-only icon—then let go and press the key one more time.
That'll put Android into a silent mode, which will allow any set
alarms to sound but won't let any other noises through. (If you ever
tried to quickly silence your phone with Lollipop, you know why this option is worth celebrating!)
8. Have your phone hush itself
Save yourself some effort and let your phone keep itself quiet when you know you'll be busy—or maybe just sleeping. Hey, they don't call it a smartphone for nothing!
Take advantage of Android 6.0's enhanced brains by going into the
"Sound & notification" section of your system settings and tapping
the line labeled "Do not disturb." There, Marshmallow has the newly
present ability to create a variety of rules for when your phone will
automatically stay silent—based on factors like the day and time or the
presence of specific types of active calendar events.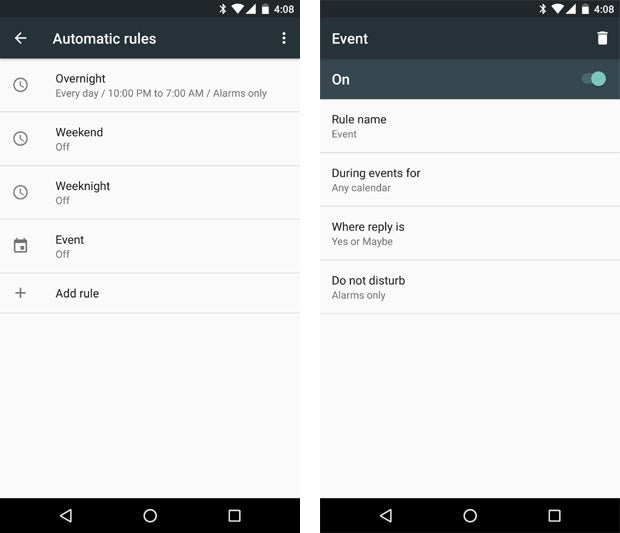 Your device can automatically silence itself at certain times of day or when specific types of events are occurring.
9. Set your priorities
Sometimes you don't want to be bothered with every ping and ding your smartphone may sing, but you do
want to be sure certain important notifications can still get through
and grab your attention. That's where Android 6.0's priority
notification system comes into play.
Before you use it, you'll need to take a moment to set the feature up
the way you want. Start by moseying back into the "Do not disturb" menu
within the "Sound & notification" section of your system settings
and then tapping the line labeled "Priority only allows."
There, you'll find a list of notification types you can designate as
high-priority—reminders, events, and certain types of calls or messages.
You can even opt to allow a caller through if she rings you twice
within the same 15-minute window (hi, Mom!).
Once you have everything configured, just activate the "Priority
Only" mode of Do Not Disturb, as described in tip number 6, and rest
easy knowing you'll only be bothered if it's something (allegedly)
really important.
10. Take control of notifications
Another annoyance introduced with Android 5.0 was the use of obtrusive and nonfunctional notifications
known as "heads-up" or "peek" notifications. The large card-based
alerts saw some improvements with Android 5.1, but they often still got
in the way without adding anything of extra value.
Don't you get scared, my  friend: With Marshmallow, you can
take full control of your notifications and determine for yourself which
apps can send those pesky pop-ups and which will be limited to good
old-fashioned status bar alerts.
Skip merrily over to the "Sound & notification" section of your
system settings and look for the line labeled "App notifications," then
select the app you want to adjust from the list. A menu of options will
appear, including one to prevent "peek"-style notifications and—bonus
alert!—one to treat the app as "priority" so its alerts will always be
allowed through when the Do Not Disturb "Priority Only" mode is on.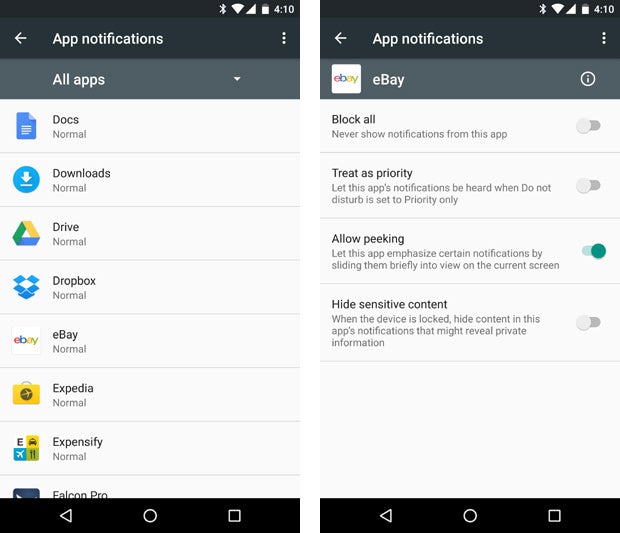 Android 6.0 makes it easy to control how different apps can notify you.
11. Show your apps who's boss
While we're on the subject of app control, Android 6.0 makes it
easier than ever to watch your apps and keep tabs on what they're doing.
Head into the "Apps" section of your system settings and select an app
to see all the possibilities.
After tapping an app, you'll be able to view its precise storage and
data use, and refine what types of access it's granted. You'll also find
a detailed overview of its memory and battery usage, which can be a
helpful way to pinpoint programs that are quietly draining your device's
resources.
12. Supercharge your text selector
Marshmallow's text selection tool is much easier to use than what
we've seen on Android in the past, but there's actually more to it than
meets the eye: The new text selector also opens the door for third-party
apps to get involved in some pretty interesting ways.
Install Google Translate and Wikipedia—two
apps already taking advantage of the new system—and then select some
text to see what the fuss is all about. With those two apps in place,
you'll find options for on-demand language translations and encyclopedia
info in the small menu that appears near selected text (alongside
"Cut," "Copy" and so forth). Tap either option, and you'll get the
appropriate result in a pop-up that won't take you away from what you're
doing.